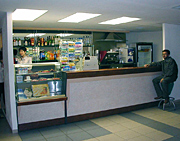 Bar racks produced by the company "ifi" (Italy) and equipment.
"M-Service Trade Technologies"LLP is an authorized, specialized dealer of the company "ifi" (Italy). We supply, assemble and install built-in equipment, such as refrigeration showcases, refrigerators, other related equipment bar bars and bar sets produced by the Italian company ifi.
Our company is always ready to help you in the selection and supply of equipment, spare parts and consumables to it. At any time you can get a competent consultation of these specialists, and not just a "quote from the catalog".
Optimal prices, real quality and service:
Our company can supply you with equipment at the most optimal prices. At the project stage, you can choose the design, configuration, decoration materials, equipment. Almost every piece of equipment before the transfer is fully prepared for the first launch, which is an added advantage and reliability for you as a customer.