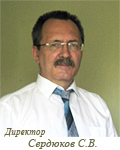 About us:
The company "M-SERVICE TRADE TECHNOLOGY" was established to implement large-scale projects that require a comprehensive "all in one" approach and was created as a full-cycle engineering company.
Rich experience of our company, as well as technical and financial support from such a recognized world leader in the production of professional and household appliances and various industrial equipment, such as Electrolux, allows us to build our work with customers on the basis of long-term and mutually beneficial cooperation.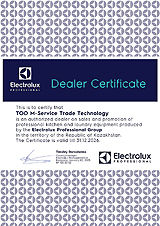 The company "M-Service Trade Technology" is the authorized dealer of the group of companies Electrolux for the promotion and trade of professional kitchen and laundry equipment produced in the plant of the concern, in the Republic of Kazakhstan and the Russian Federation .
All technicians of the company have undergone special training, and regular trainings at the factories Electrolux . The corresponding certificates certifying our authority, you can see on the left. Our technicians will not only install the equipment with full compliance and the requirements and recommendations of the manufacturer of the Electrolux equipment, but also adjust and startup it

We are ready to provide you with a full range of services, starting with consultations on design and marketing of the project, selection of equipment and accessories, and finishing with installation, commissioning and training of personnel. Along with the excellent quality and high reliability of the equipment, we provide its warranty and after-warranty service, technical monitoring and technological advice on its optimal use.
Our company conducts regular seminars with the involvement of foreign partners for its customers, as well as everyone who wants to know first-hand about modern technologies, using the latest developments of leading manufacturers in the field of equipment for the sphere of trade, services and catering.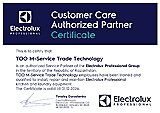 For the convenience of our customers we have a spare parts warehouse, with the most requested and recommended spare parts for emergency assistance. As well as a authorized service center, that have a special license to repare all types of equipments for laundry and kitchen and tecnicians, who have passed special trainings.